At the latest in early summer, people tend to spend more time outdoors. And when the mild air is filled with the delicious smell of BBQ, who doesn't feel like finally starting their own grill?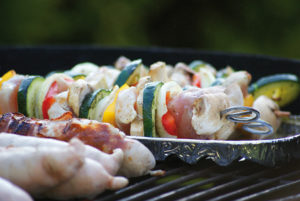 However, there is something you should consider beforehand: To ensure you have a safe barbecue, you should only use devices tested by technical inspection associations or manufactured according to DIN EN. And please only use firelighters and charcoal recognised as meeting the legal requirements.
But how do you want to grill, directly or indirectly? And since this question already arises when purchasing a grill, we have listed a few brief details about the two grilling techniques.
An open grill is sufficient for direct grilling – your BBQ food lies on a grill grate directly over the embers. Direct grilling is probably the best-known and most common technique. It is perfectly suited for fast-cooking BBQ food such as sausages, steaks, tenderloins, fish or fruit and vegetable slices. The heat radiation's effect on the BBQ food is strongest when grilling in this traditional way, and the cooking time is correspondingly short.
You always need a cover for slow and gentle indirect grilling. The fuel container is covered, which results in the creation of a closed cooking chamber. When it comes to kettle grills, the charcoal is located in two trays or baskets on the edge of the bowl. Your BBQ food is placed in the centre of the grill grate. Important: Always place a tray underneath in order to catch the dripping grease. The heat circulating inside the closed bowl works much like an oven. Since the food is heated from all sides, you can even prepare a whole roast with indirect grilling. Unlike it is the case with direct grilling, indirect grilling results in considerably longer cooking times. However, you do not have to turn your BBQ food or frequently open the cover, because the heat is supplied from all sides.
Whatever grilling technique you choose, we wish you a great time. Enjoy your meal!